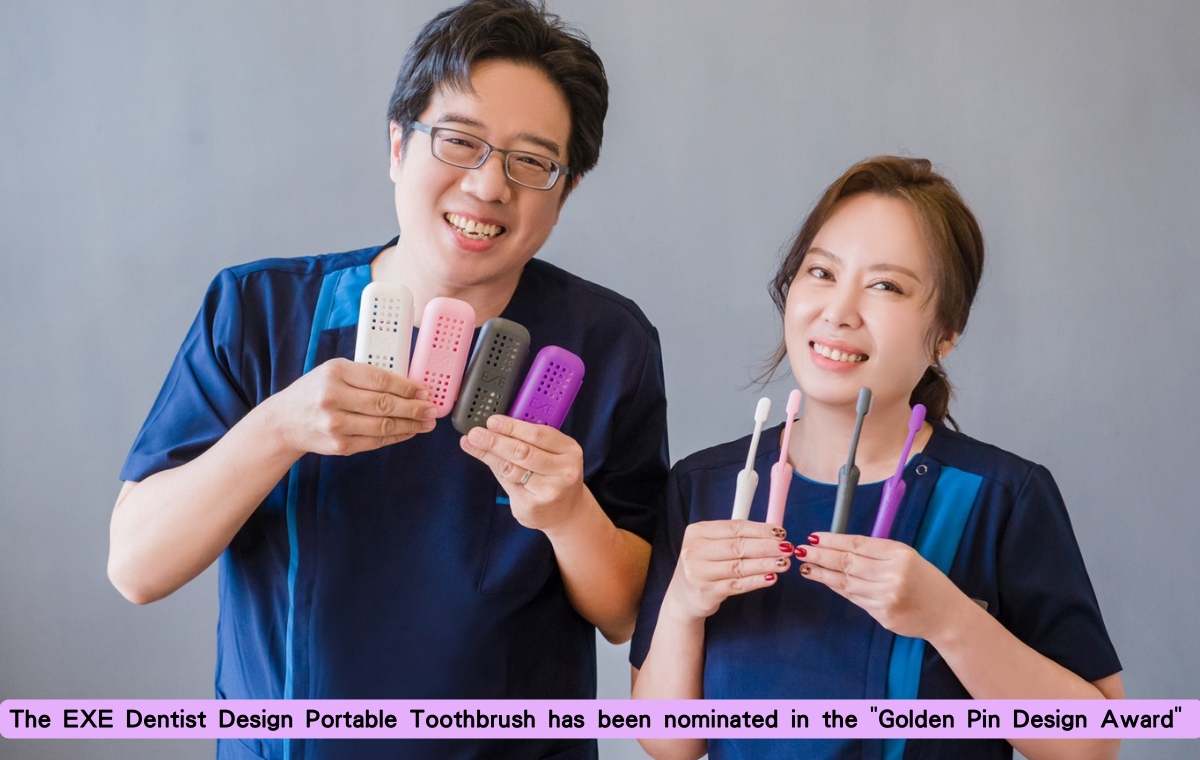 ▲ The EXE Dentist Design Portable Toothbrush has been created over a research and development period of nearly 8 years from design and mass production to market sales. The purpose is to provide users with a feeling of an "excellent experience" when brushing their teeth. (Photo/Provided by GOEXE INTERNATIONAL CO., LTD)
EXE dental cleaning products, the first choice to bring when traveling, being nominated in the Golden Pin Design Award for recognition
(NOW Health, Zhiqing, Yang / Taipei) "May I ask how I should take care of my teeth at home? This is a frequent question asked to Dr. Yi-Hua, Huang, director of EXE Digital Orthodontics Center and developer of the EXE Dentist Design Portable Toothbrush, by her patients. It is true that brushing ones teeth is a key factor in maintaining oral hygiene, but how many people can make it a habit, be willing to brush their teeth regularly and furthermore fall in love with it? Especially for patients who are undergoing implants or orthodontic treatment, dental cleaning is supposed to be taken seriously. Using the right brushing and oral cleaning tools can not only prevent the oral environment from deteriorating, but also significantly reduce the occurrence of tooth decay, periodontal disease, peri-implantitis that leads to implant failure and the need for prolonged orthodontic treatment due to mouth disease during the orthodontic treatment period.
8 years of research and design to create the best dental cleaning experience
Dr. Yi-Hua, Huang is often frustrated by the problems patients have maintaining their teeth as they return frequently when their dental hygiene was bad from the beginning. In understanding the various information on dental cleaning products available on the market, she found that patients do not know how to choose suitable toothbrushes with soft and hard bristles that can effectively remove plaque without irritating gums or what ingredients of toothpaste and mouthwash are most helpful in relation to their oral condition. In addition, there are many products on the market that are extremely strong and overly stimulating to the gums. Due to all the factors mentioned above, they result in patients distancing themselves from the pleasure of brushing their teeth, not to mention maintaining their oral hygiene properly every day.
Clinically, we always see orthodontic patients who have large steel teeth without implementing teeth cleaning correctly and properly, and this results in periodontal disease and tooth decay, forcing the removal of orthodontic appliances and the treatment of the problematic teeth. If patients have severe periodontal disease, the extractaction of the teeth may even be required; furthermore, periodontal disease must be treated for more than six months, therefore it will make result in the orthodontic treatment being suspended. Moreover, up to 90% of patients need dental implants as a result of periodontal disease. The wound swelling and pain after surgery is more evident, the first and second weeks after the implant is an especially critical period for wound recovery, and oral cleaning must not be neglected.
In order to maintain good results during and after the treatment, also hoping that orthodontic and implant patients can take brushing seriously, the EXE Dentist Design Portable Toothbrush has been created over a research and development period of nearly 8 years from design and mass production to market sales. The purpose is to provide users with a feeling of an "excellent experience" when brushing their teeth.
With the professionalism of dentists, it is a basic requirement to provide toothpaste and mouthwash with ingredients that can prevent tooth decay and periodontal disease. this toothbrush's short and long bristles and optimal softness are also patented designs that can easily clean the gum sulcus, effectively remove plaque, and protect the safety of the gums. However, "the most difficult challenge in the product design process is to implement the product design concept in a practical and aesthetically pleasing way, while making it easy for patients to carry and brush their teeth at all times." , shared in earnest by Dr. Yi-Hua, Huang
The EXE Dentist Design Portable Toothbrush has been nominated in the "Golden Pin Design Award", the annual event of the global Chinese design community. (Photo/Provided by GOEXE INTERNATIONAL CO., LTD)
Carrying EXE Dentist Design Portable Toothbrush, Patented design makes it practical and stylish
During the research and development process, Dr. Yi-Hua, Huang realized that even if the tools are correct and the ingredients are good, it is ineffective if the patient does not brush "often". Therefore, a quality product that can be carried in a convenient way that is also functional will help to increase its frequency of use. There are several unique ingenuities in the EXE Dentist Design Portable Toothbrush, including a breathable carrying case that has been developed for more than 2 years, with a lightweight and good-looking appearance that prevents moisture from causing bacteria growth; a special flat curved cap for the mouthwash bottle with a patented design that keeps liquid from leaking out when placed in a bag; a foldable toothbrush that does not take up much space and only the top half of the brush head needs to be discarded to reduce environmental damage from plastic; a disassembly method that makes it easy to replace the brush head for users of all ages; and a curved brush handle that is ergonomic and easy to grip, etc. A total of 6 patents have been applied for in the past 4 years. Each design difficulty was overcome one by one after countless tests and based on patients' points of view.
Perhaps "good original products are eventually acknowledged". When the toothbrush set started to be sold online, the unique ingenuity and dedication of the product design was seen, and the EXE Dentist Design Portable Toothbrush was nominated in the "Golden Pin Design Award", the annual event of the global Chinese design community, which means a lot to Dr. Yi-Hua, Huang. It's like meeting your talent scout in the crowd, just like the persistence of implementing design concepts and making good products, and finally being appreciated and receiving a great response.
Choosing the right to product brush with is the primary thing to maintaining oral hygiene, and the EXE Dentist Design Portable Toothbrush is lightweight, stylish, and easy to carry as well as usable abroad. Additionally, mouthwash and toothpaste can be used for at least 1 week when traveling away. Dr. Yi-Hua, Huang reminded us that it is necessary to replace your toothbrush every 3 months, brush your teeth immediately after all 3 meals and also sweets, so that the bacteria in the mouth will not breed. What's more, if you are a patient with dental disease, it will be more effective to use the mouthwash after brushing teeth. Make sure to keep the bristles dry to reduce the breeding of bacteria when using it while going out.
Dr. Yi-Hua suggested that brushing with a manual toothbrush is more accurate in terms of whether the toothbrush has thoroughly cleaned the gum sulcus, and using brushing and mouthwash continuously to brush each tooth step by step to achieve effective oral health care, having a healthy oral state, and life will be better from its 'root'.
Powered by Froala Editor